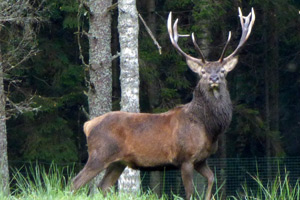 Red deer (
Cervus elaphus
)
Brief background

:
Weight

: males - up to 240 kg, females - up to 170 kg


Length:

males – up to 230 cm; at withers: 110-145 cm | females – up to 210 cm; at withers: 105-125 cm


Sexual maturity age

: males ~ in the second year of life | females in the second or third year of life.


Mating period

: September-October


Gestation period

: ~ 8 months (235 days-245 days)


Number of offspring:

1-2, born in May-June


Lifespan:

16-18 up to 20 years


Natural predators

: wolves, lynx, less commonly – bears; calves may be attacked by foxes as well


Status of the species in Latvia:

A widely distributed and very common species throughout the entire territory of Latvia. According to the data of the State Forest Service for 2019, the population of red deer in Latvia is approximately 62,000 individuals.